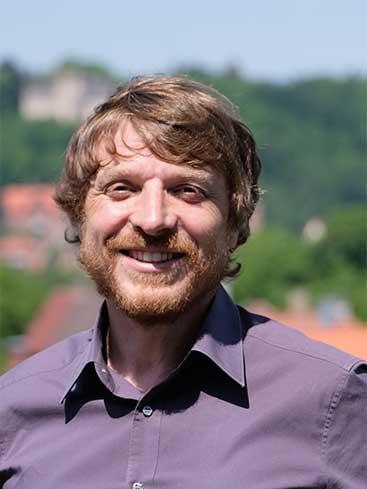 Mr. Wegmann, how did you come to be at TDM Systems?
I graduated as a certified information systems engineer in 2001. This was the same year that the dotcom bubble burst, causing the software development market to dry up and making jobs quite rare. I originally come from Saarland, where I had, and indeed still have, strong roots. My grandpa finally gave me the push I needed to embark on an adventure and tear myself away from home. Today I'm extremely grateful that I dared to take the step to apply for a software developer position at TDM Systems, as it has made me aware of different perspectives and opened up new opportunities.
Why did you decide to work for TDM Systems?
What really excited me was the industrial environment that TDM Systems operates in. Especially because it has a very promising future. Even in the job interview it quickly became clear to me that TDM Systems is an interesting and attractive employer. Straight away I was tasked with solving a programming problem with my future manager. I liked how I was faced with a challenge right away. And as it turned out, I coped with it well, too. I got the job.
Also the way in which company management and my future manager treated me in the interview gave me the feeling that I would be joining a good team here. It became clear to me that at TDM Systems you have the opportunity to make your own contribution and continuously develop. And the programming task made me realize that great importance is given to actively shaping things and sharing your own opinion.
And my colleagues, who gave me a warm welcome and showed an interest in me, confirmed that I'm in the right place here.
Your career path at TDM Systems is rather unusual if you believe the preconception that a developer and salesperson couldn't be more different. You are a developer – why are you now changing to Sales?
I started off as part of the standard development team, then relatively quickly moved to the department for special adaptations for customers, where I worked for 14 years.
The image of a developer is always somewhat stereotyped. But the cliché of an introvert wearing glasses and developing software in a basement isn't always accurate. And it certainly isn't true in my case. I've always been an open type of guy, someone who likes getting to know others. And the fact that I'm open and enjoy being in contact with other people also helped me to implement specific customer requests. I've been able to gain years of experience in this field and have noticed that I have a good instinct for identifying exactly where a customer's problems actually lie. It's really an art, working out what a customer's real problem actually is. I found it quite simple and I have enjoyed it a lot . And the feedback was always positive, too.
Of course I can understand why people are asking why I'm now changing to Presales. When the position became vacant within the company, I was interested straight away. For me, this was a way of putting my years of experience to good use in a different way to benefit the company and so that I could further build on this experience.
So I thought about whether I wanted to take this step out of my comfort zone, where my working hours were fixed, and into a role where I would have to travel a lot. And also whether this was compatible with my family life. I spent a lot of time talking to colleagues working in the department. My wife gave a clear answer to encourage me. She said that I'm at an age now where you don't get many opportunities like this [laughs].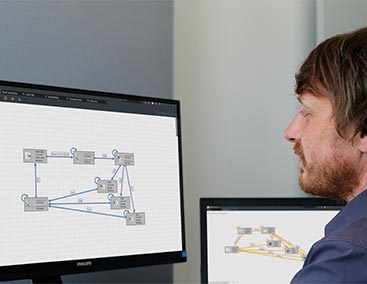 How did your colleagues in Development react to the change?
It didn't come as a complete surprise. My colleagues and my line manager in Development all know me very well. And my manager also saw the change as an opportunity to have an employee in Presales who is very familiar with the development process and who speaks and understands developers' language. As it's certainly true that there's a gap between Development and Sales. Finding a common language here is a challenge. And I think I can bridge this gap with my background and experience.
What characteristics and experience as a developer will help you with your new tasks in Presales?
Reading between the lines to find out what customers actually need, grasping it and understanding it – I'm able to do all this quite well thanks to my experience in software development. After all, it's certainly possible to head off in the wrong direction. What's crucial is communicating these customer requests in detail for Development so the developers know exactly what they have to implement. So it helps that I'm familiar with the requirements from Development and know what's important. And at the same time, my experience in external communication with customers helps, as it allows me to clearly convey what I can and would like to offer them. So, I suppose you could say I "translate" between the real world and the bits and bytes.
What do you particularly like about your work at TDM Systems?
I especially like how I'm able to work really independently. We have a lot of room for maneuver and aren't restricted, plus we're always listened to – this can't be taken for granted in a company. Of course there are certain conditions, but at the same time, every member of staff is given a great deal of freedom and is able to control a lot of processes themselves.
I also really appreciate the team spirit among colleagues. I've been at TDM Systems for some time now and I know my colleagues well. And even if we have completely different opinions, there's still a feeling of being part of the same team.
Any final thoughts?
Right now is a really exciting time for us with the new Global Line product and the possibilities this brings. I'm really looking forward to being a part of this and actively making a contribution.
Other careers at TDM Systems