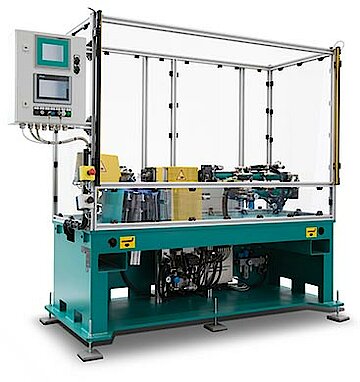 TOX PRESSOTECHNIK is also feeling the effects of ever-tougher global competition. As a result, the international manufacturer wants to be even more efficient than ever. The TDM solution was introduced at the Weingarten site in 2008 and, over time, has been built up into a comprehensively integrated solution. The result? Innovative process improvement and significant savings. But what exactly has changed thanks to the TDM application?
Before introducing the TDM software, TOX PRESSOTECHNIK managed its tools using lists. With 16 milling machines, which are used around the clock and retooled between eight and eleven times per shift, this was "an absolute catastrophe". "Nobody," explains Markus Kuhn, Head of CAM Programming & Tool Management, "was tracking which tools were used, where they were used and where they were stored". This problem affected production reliability and quality, and drove up tool costs and storage costs significantly.
The introduction of TDM changed that fundamentally. Despite an increase in turnover, the company was able to successfully reduce its tool variety and stocks. Currently, 4985 different tool items are kept in stock. That is 20 percent less than five years ago. To consolidate its stock, TOX PRESSOTECHNIK defined standard tools, as well as other elements, for each machine in TDM. Tools that are additionally required also no longer have to be kept in stock twice or three times. "Using TDM, we are able to plan the shopfloor so that a single special tool can be used for a range of orders." More than just a side-effect: By reducing the tool variety, TOX was also able to further consolidate its requirements.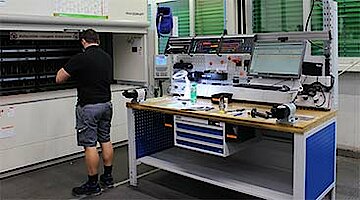 Transparency by connecting storage cabinets
Storage dispensing guarantees further cost reductions. The storage cabinets are controlled and managed using TDMstoreasy. As well as tools, consumable materials are also stored in the cabinets. When an item is removed, it is directly booked to a machine. This has led to "far lower consumption nowadays". This system also enables targeted reordering. And thanks to stored repeat order limits, "we can keep a close eye on things even when we're dealing with thousands of items."
Alongside comprehensive cost reductions of approximately 25% in procurement and storage, this expert cutting machine operator also benefits from noticeably shorter setup times.
Setup times reduced to a minimum
By defining standard tools, the company ensures that "the tool we need is, in an ideal scenario, already on the machine, which means we no longer have to spend time retooling," explains Kuhn. Even when new tools are required for processing, setup is no longer such a "time-consuming process".
The biggest difference compared to the previous system is that when a new tool arrives at the machine, it is already fully created, including all data, and readily available. "The tool has already been through the entire chain and is ready to use. In the past, this was impossible. This is how we have managed to minimize our setup times," Kuhn adds.
Integrated tool measurement
The TDM system's integration capability and openness to other systems ensures significant optimization of processes throughout the entire production area. "No other system currently on the market is as comprehensively designed when it comes to interfaces," says Kuhn. A great example of TDM's integration capabilities is the connection of presetting devices.
This means that the target data for the tools no longer needs to be entered laboriously by hand. Instead, the presetting systems receive this data via TDM. The measured actual data is then transferred from the presetting system through TDM to the processing machine. This therefore eliminates the need for time-consuming, error-prone manual data input.
Interface to the CAM system eliminates sources of error
A particular highlight in Kuhn's opinion is the interface between TDM and the Creo CAM system that is used at TOX PRESSOTECHNIK. If, for instance, no suitable tool assemblies for machining are on the machine, the NC programmers search in TDM for the right tool or use new tools.
The results can be filtered using certain parameters and by cutting material. In addition, the 2D and 3D graphics of the tools can be viewed. All tool assembly data that is required for NC programming, including cutting data, is then sent from TDM to the Creo CAM system via an interface at the touch of a button. The entire data transmission process is fast, convenient and error-free. What's more, since the tool data is now maintained centrally in TDM, TOX PRESSOTECHNIK can save considerable time on data maintenance while remaining sure that "everyone is working with accurate, up-to-date data".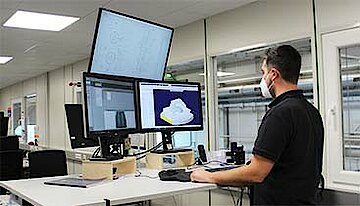 Tool data for simulations
After NC programming, TOX PRESSOTECHNIK uses the CNC simulation software from HEXAGON to digitally simulate whether the workpieces can be produced on the machine using the selected tools without any collisions.
This step is definitely worth including: Since 2013, TOX PRESSOTECHNIK has not recorded a single collision caused by incorrectly assembled tools. As Kuhn explains, the most important factor is always the quality of the tool data, which "simply has to be correct". Tool manufacturers who do not provide him with any CAM-capable data will therefore not be used as suppliers.
Tool life significantly increased
If the simulation runs without any errors, the tool lists are transferred from the CAM system to TDM. They are then used in TDMshopcontrol as the basis for tool planning for the machines.
This has enabled TOX PRESSOTECHNIK to extend the tool life by 30 percent over the past few years and drastically reduce the company's scrap rate. In Kuhn's opinion, these successes "would not be possible" without TDM. As a result, one thing is very clear to him: "For us, TDM is the most important system for our mechanical shopfloor – after SAP and Felios." On the basis of their experience so far, TOX PRESSOTECHNIK is intending to roll out the solution internationally in the future.

Prior to implementation of TDM
No overview of available tools, stock locations and stock
Negative effects on production reliability and quality
High tool and storage costs

Process innovation
A central tool database provides all areas with accurate, up-to-date tool data
Automated tool and consumables dispensing reduces consumption and enables targeted reordering
Comprehensive integration into processes of other systems ensures high process quality and reduces errors
High-quality NC programs and simulation analyses – no collisions since 2013
Definition of standard tools for every machine leads to quicker availability

Interfaces
to Zoller, Fastems, Hänel storage system, Creo CAM system and SAP ERP system

Tool offset processors
for Heidenhain and Siemens