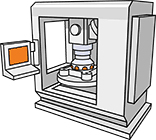 Machine Control Systems
Tool-specific machine data is a hidden resource – put it to use with TDM!
Tool-specific data directly from the machine application has the potential to continuously and efficiently improve the planning and manufacturing process over the long-term. The information from the magazine can be effectively used if the magazine is connected to a data feedback and evaluation control loop. We are consistently making the data usable for all areas with Tool Lifecycle Management. The resulting data is not the only data that is important. Tool data and NC programs are sent to the machines simultaneously with TDM. This enables production without losses due to machine downtime. We are working with experienced partners to realize our goal of standardized machine communication. Industrie 4.0 is becoming reality!