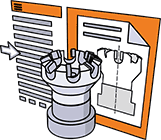 TDM Data and Graphic Generator
Digital manufacturer tools available at a click!
A software system is only as good as its data. That's why high-quality tool data and graphics are indis-pensable for the efficient use of TDM-software. The TDM Data and Graphic Generator (T3D) is a huge pool of data and graphics from tool items from a wide variety of manufacturers. The software is a generation tool and creates a complete tool data record with just a few clicks, including 2D graphics and 3D models. It is exceptionally well suited for populating a database and for enhancing tool data by adding true-to-detail 3D models for simulation and collision monitoring.