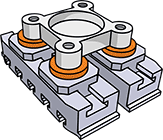 TDM Fixture Management Module
Each order needs a proper fixture - TDM organizes them all and helps you choose the right one!
The TDM Fixture Management Module manages all fixtures independently with master data and bills of materials. The objective is to provide the correct fixture for the production order. This generates time savings and know how through the optimum selection of fixtures. The management system includes
detailed information and individual knowledge about the fixtures. In addition, data about the physical location in the crib is managed. Because production is not possible without the right fixture, the TDM Fixture Management Module provides all the options you need for managing fixtures.