The solution of the future with advanced technology, user-friendliness and global performance
TDM Global Line is the latest software line from TDM Systems and will replace our current range TDM in the medium term. TDM Global Line was developed with technology, user-friendliness and a performant, global application in mind. All these criteria are crucial for successful digitalization on the shopfloor. TDM Global Line has a modular design and can be scaled from a single-user system to a group-wide installation, depending on the scope of applications. The functions and modules of TDM Global Line are being continuously developed, and additional applications and innovations are made available with each new main release.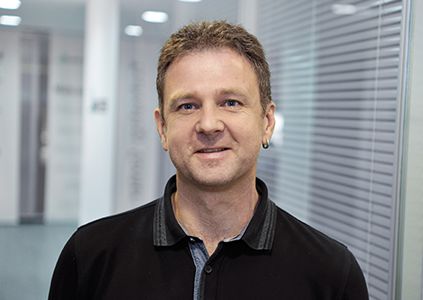 Personally, I'm very enthusiastic about the new configurable dashboards. The individual reports allow you to track your tooling costs transparently, meaning you can react as necessary. What's more, the dashboard is great from a visual perspective.
Patrik Nellinger
Solution Owner TDM Global Line
Hybrid application: Get the best out of both systems
This is the ideal opportunity for TDM customers to expand or upgrade the established TDM application step-by-step with the addition of Global Line modules. This is because, unlike most other software providers, we offer you a smart entry-level option for the application of TDM Global Line in the form of hybrid mode. Wepromise greater digitalization through modern system architecture, global performance and cloud readiness. Take this opportunity and start transitioning your system now with tailored planning – we'll be happy to help. Would you like to start again with digital tool management? Then TDM Global Line is the ideal system for you.
Efficient data management including tool data from the cloud
With TDM Global Line, you can use tool data to its full potential. You can establish a valuable database by using extremely practical and efficient applications for data creation and processing. TDM is the leading system for preparing and managingtool data and graphics. One particular highlight is the virtual assembly of 3D tool assembly graphics. There is also a wide range of applications for processing 2D and 3D tool models, rapid structuring of tool data. And last but not least, you can access digital manufacturer catalogsonline at any time with the TDM WebCatalog.
The Global Line Dashboard: Simply great
The TDM Global Line Dashboard gives you the flexibility you need. By individually compiling content and issuing individual reports, you can put together the information you need for your day-to-day work. You can use the MS Report Builder to define individual reports which are displayed in the dashboard alongside real-time data. This makes it possible to transparently monitor tool management with information about, for example
the most-used tools,
the value of used and new tools,
the number of items and tool assemblies created
and an overview of pending production orders.
Global Line's user-friendliness is impressive
The user-friendliness of TDM Global Line will win over all users. A modern, attractive look and feel, common functions and processes which are intuitively adopted and easy to learn ensure fast acceptance and productive use of Global Line. The intuitive design of the software is based on the many years of experience of our UX designers. Our development team is always up to date, so design ideas used worldwide flow into our software.
Improved organization in the tool room
TDM Global Line offers practical options for organizing tools in your tool room. These range from classic crib management to the connection of presetting systems. It also involves querying minimum stock levels and creating the resulting purchase requests. Tools can be put into and removed from storage via barcodes, for example, and tool dispensing systems can be connected. A part of our Tool Room Management is the integration of presetting systems from various manufacturers.
Advanced shopfloor management
When developing Global Line, particular emphasis was placed on designing an extremely high-performance shopfloor management system for tools. The Shopfloor Manager is the innovative solution for this. With the option of user-defined tool circulation processes, this standard solution offers tremendous advantages for users. To enable extensive networking at production level, Global Line can also communicate with the machine control system, as well as with standard MES systems. This increases transparency in production planning, reduces costs and maximizes machining running times. The Shopfloor Manager is the ideal module for expanding and upgrading the application with the addition of Global Line, especially for TDM users.
Currently available modules and interfaces for TDM Global Line