TDM 2D-Graphic Editor ClassiX & Global Line

The TDM 2D-Graphic Editor is the compact graphics solution for your TDM. It facilitates quick and easy creation and editing of DXF tool graphics, for example for re-editing graphics provided by manufacturers. As an additional module integrated into TDM, the Editor thereby allows for an efficient workflow in the familiar TDM environment. Switching to external 2D CAD systems is then no longer necessary. The affordable and reliable solution meets many editing needs in the daily workflow on your shopfloor.
TDM 3D-Solid Editor ClassiX & Global Line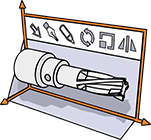 Do you receive 3D models from tool manufacturers that are actually only useful for tool documentation purposes? Do you need to manually edit the models for use in NC programming and simulation systems? Do you receive 3D models that are not TDM-compliant? Then the TDM 3D-Solid Editor is exactly the right tool for you.
The 3D-Solid Editor offers special functions for optimum reworking of the 3D model for this purpose in the STEP and SAT formats. Using the 3D-Solid Editor, you can prepare the 3D models efficiently for smooth tool assembly.