Solutions
Your tool management solution
TDM tool management solutions for machining increase productivity
TDM software solutions help you to optimize processes, both in planning and in real production. The recipe for success and the heart of TDM software is the central database for tools and items. It stands for the integration of all simulation and manufacturing systems and machines and guarantees a transparent flow of data across all departments. The result is a digitalized shopfloor with demonstrably higher productivity. No matter what requirements you and your production have, TDM Systems has the right solution for your tool management. Because TDM tool management solutions for machining are scalable, grow with you, and can be repeatedly adapted to meet the latest developments.
Why TDM tool management software? Advantages of digitalization
For over a quarter of a century, TDM Systems has been digitalizing production in machining companies with its solutions. With the TDM tool management solutions for machining, you can prepare your tool data in an application-oriented manner and record it centrally in a database. All employees – in planning and production – working with the same data allows synergies to emerge and additional expenses due to entering things twice or amending incorrect data be avoided. With TDM you always have an overview! Our advantages will convince you!
Increase your productivity with these modules for the machining industry
Anyone who wants to keep up with the competition today and even want to be one step ahead of the competition is in the right place at TDM Systems! Digitize and optimize your production with us. Let our software solutions convince you:

Software for production equipment management
Do you not only want to record production data and resources quickly and easily, but also find them again? The TDM software for production equipment management simplifies your daily work with numerous coordinated modules. This enables you to organize your tools in all phases of planning and production as well as obtaining the best possible data transparency.

Software for shopfloor management
Have you captured all your data and your planning and manufacturing systems communicate smoothly thanks to TDM? Then digitalizing your shopfloor is a breeze! With the TDM software modules for shopfloor management, you always have an overview of your tool inventory, the condition and the current location of the tools. In this way you reduce tooling costs, save time during preparation and keep your production processes lean.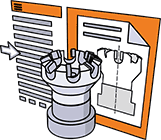 Software for graphics and data generation
If you want to fully exploit the potential of your Tool Data Management, you need a good database. TDM Systems offers you numerous solutions to capture new data in an application-oriented way or to enrich existing data with 2D and 3D tool graphics. With the new TDM WebCatalog and the TDM Data and Graphic Generators, this takes no time at all.

Independence from manufacturers is a key feature of TDM solutions. Interfaces link the different systems that are involved in your production process. They also stand for perfect integration: Numerous interfaces, many developed in cooperation with machine manufacturers or CAD specialists, guarantee smooth interaction and facilitate automated procedures in your production.