Do you still record data on your tools manually in Excel lists or on index cards? Maybe you do not even record any tool data at all? If you use drawings of your tools, are they only available on paper? Or do you use various insular systems that do not communicate with one another? The consequences of this include unnecessarily high crib inventories and more tools than needed, as well as an insufficient overview of where the tools are located or what condition they are in. Tool assembly becomes a marathon, while your machines suffer longer downtimes than necessary. This can get expensive. Therefore, use the advantages of digitization with TDM and start saving money!
Digital tool management - More power for your business
Take action now to improve the speed, return on investment, and economic efficiency of your enterprise – all while taking a significant step toward Industry 4.0. Our solutions can be precisely tailored to your requirements, just the way you need them. Your TDM Tool Management grows with you in a step-by-step process. TDM is a modular software that is based on a single database. This goes far beyond the boundaries of classic Tool Data Management. We call it "Tool Lifecycle Management". The modules fit together like a puzzle that recreates the typical, heterogeneous production landscape. TDM allows planning and production to be fully networked across multiple sites. From contract manufacturers to globally active corporations – TDM offers the right solution.
Feel the advantages of digitization with the TDM interfaces
Do you require interfaces to ERP, MES, CAD/CAM/SIM, or presetting systems, or maybe to your tool suppliers? TDM provides virtually every required interface. You may also be interested to know that many CAM systems support the AME interface from TDM to the central database. CAM programmers then no longer need to exit their application. They can simply select the tools or tool lists that they need directly in the CAM system. It automatically imports the data from TDM. Once the work has been completed, the tools are transferred back to TDM. You can check your inventories or manage your orders and suppliers via TDM using your ERP system, for example. ME systems use the orders in TDM for planning on the machine. Integration of tool crib and vending systems provides support for organization and automation. TDM communicates with RFID systems. It supplies all necessary data for presetting. It accepts the offset data and then sends it directly to the machine tools together with loading/unloading lists and/or NC programs.
The future is already here: Digital tool management with TDM Global Line
TDM Global Line is the latest generation of Tool Data Management. This is Industry 4.0 for day-to-day operations. It is based on the latest three-tier software architecture and facilitates the functionality you need for your operations. Thanks to highly efficient data transfer, it also helps secure fast communication, even across continents. It shares a database with TDM 2018, the classic Tier 2 software. Both applications can therefore be operated in parallel without any issues. This secures the investments made in TDM modules and individual adjustments. TDM Global Line is continuously further developed. It has a modern, user-friendly interface that can be individually customized with just a few mouse clicks. Get all the advantages of digitization with our TDM Global Line!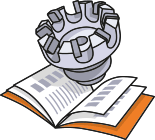 Highlight: Cloud catalogs
The typical situation: A large order comes in. As always, it is urgent and has a tight deadline. Chaos? Not with TDM. The Base Module is capable of managing tools and tool assemblies for all orders. Do you need drawings of new tools, as well as feeds & speeds? No problem. The most important tool catalogs are included in TDM. The necessary 2D graphics, 3D models, and cutting values can be imported from the cloud with a simple mouse click. As of the 2019 version, selected tool manufacturer catalogs are available in their latest version.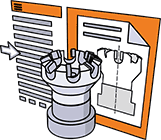 Missing data can be added very quickly
If the tool manufacturer does not offer sufficient tool data, you can have the missing information generated quickly using the integrated 3D-Generator and 3D-Designer. It is then available immediately to all systems, all the way up to CAM and simulation. In addition to this, the TDM Base Module offers a large number of tools for managing the data and the database. The Excel import function is just one example: Lists with tools, tool names, or even just the article numbers can be imported.

The paperless office: Propagated for decades, it becomes reality on the shopfloor with TDM. The TDM Tool Crib Module, for example, can control the entire crib. Users in the crib select the order and receive all data digitally via any output devices. Vending systems and setting devices are integrated, so only the "to do lists" still need to be processed in TDM. RFID tags can transfer the data directly from presetting to the machine.
Dashboard to maintain an overview
The TDM Global Line dashboard is the information center. You can find all important system variables and select the widgets that give you the best overview here. Tool movements and other operations at the planning and production level are displayed on the screen in real time as prepared graphics. "Tool planning" provides information on the progress of your production orders. The "Production" area shows your current tooling costs, as well as the current daily KPIs.

The manager for your shopfloor
The TDM Shopfloor Manager supports you in planning, managing, and visualizing your production resources. Both the data from your tool planning operations and the inventory data from your production operations are incorporated into this. The Shopfloor Manager not only determines the tool requirements on the machine, but also removes and stores surplus tools. Defined tools can be booked to the machine and the tools inventoried. In addition to this, it supports tool calibration and presetting by defining and writing the tool offsets. Do you prefer to store your tools near your machines rather than centrally? The Shopfloor Manager can also handle this without any issues. It ensures orderly removal of the tools from the machine, as well as their disassembly and return to storage.
MTC: Using data analysis to find optimum processes
Finally get to grips with Industry 4.0 using Machine Tool Connect (MTC). Not only does MTC create digital data, it also collects, manages and analyzes it. The data flows across the entire shopfloor to where it is needed. The machine connection supplies up-to-date service life information directly from the machine control system. The system displays necessary tool changes in advance and analyzes the process for optimization potential. This helps to keep everything flowing smoothly on the shopfloor.
The Tübingen-based tool data specialists have also invested a great deal of expertise and resources into the further development of the TDM core solution. This means that users of TDM 2019 and above can benefit from the new hybrid mode: They can use Global Line modules such as the Shopfloor Manager in combination with TDM 2019 and above. Access to the TDM WebCatalog is also possible for the current version. It provides everything that's needed for greater flexibility and efficiency on the shopfloor. Everyday work can also be facilitated via the extended Multi Plant Management system, which allows production equipment to be assigned with even greater precision.