We are a real software forge – but not only for nerds. The pioneering spirit of the company's founders still drives us today: The ingenious idea of managing tool data in the machining industry with one software became a global success. Today, we are a key partner for companies around the world in the digitalization of production processes and are helping to shape the tool management of tomorrow. That makes us proud. Our teams of experts are among the best in the market and their know-how is in demand. And yes, we are rooted locally. Our ideas originate in Tübingen, which is where our employees develop, market and install the software modules worldwide. As a small company with flat hierarchies, we need real doers to shape the digital future with us.
During your training at TDM Systems, you will become part of our expert teams and build up a unique know-how: You will learn a great deal about IT, customer projects and the commercial processing of software licenses. Our goal is to prepare you for your professional life in the best possible way – we will make you a doer!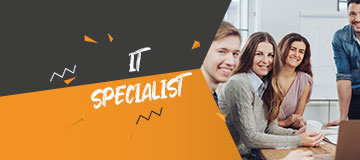 Does your heart beat for digital data processing, applications and development languages? But do you also want to see what your code does in the everyday life of a manufacturing company – for example, how production processes become even more efficient thanks to intelligent software? At TDM Systems, you can get to know both worlds during your training as an IT specialist for application development:
In Development, you will learn a range of programming languages, development methods and development tools, as well as get to know our TDM software product lines.
You will gain insights into processing complex tool data to create digital twins of tools in our Data team.
In the Quality Assurance team, you will find out everything about methods for ensuring error-free software and thus optimal software quality.
During your assignment in our Global Service team, you will be able to apply your acquired knowledge in practice, e.g. when performing software training and providing services at our customers.
At TDM Systems, we also give you the scope to gain insights into other specialist departments. You can get to know our Order Processing area, support the Service Desk, or shadow one of our Sales employees. Sound exciting? It is!
What TDM Systems has to offer you
A flexible working time model
Flat hierarchies – and thus the opportunity to take on responsibility even without studying
Apprentice discounts in the company cafeteria
Discount for a gym membership
Travel allowance for the route between your home and the vocational school
Good IT equipment at the workplace, e.g. two monitors
Regular team events
A free parking lot directly at the building
What you should bring with you
Good intermediate school leaving certificate, specialized baccalaureate or general university entrance qualification
Enthusiasm for IT and manufacturing processes
A good technical understanding as well as an analytical way of thinking
Find it fun to think outside the box
A "doer mentality"
Ability to work in a team and sense of responsibility
Good knowledge of German and English