Nobody can fool him in tool management matters: Manfred Treß, production foreman in mechanical machining and currently in charge of maintenance for the machines at Liebherr-Werk Ehingen GmbH, has experienced and helped shape development since the 1990s. A true Swabian icon, who at 59 is still as "fired up" about his profession as he was on day one. With his strength, steady voice and sparkling eyes, it is easy to believe that the trained toolmaker would "choose this profession again in an instant."
He has been with Liebherr since 1976. For almost four decades, Treß has been helping to build large-scale and automobile cranes that are in demand all over the world. For a few years, Ehingen has also seen the emergence of shading systems, gigantic sun umbrellas that come across as delicate despite their enormous dimensions. Anyone who looks closely will recognize the similarity to large crane designs. Manfred Treß is particularly proud of these very unique specimens.
Small Production runs, Large Part Variety
Unique is the keyword: There are no large-scale production runs in Ehingen. The quantities remain manageable. This makes it clear that the machines on the shopfloor need to be as versatile as possible. Machining the parts requires an enormous number of different tools that need to be in the right amount, at the right place and at the right time. Currently about 15,000 to 17,000 programs are running, supported by 4,000 to 5,000 tools and tool items.
When Treß left shift work almost twenty years ago, an exciting task awaited him: He was to organize new tool management on the shopfloor. For all practical purposes, the previous tool management was only accessible to the programming department. "Only the programming department knew which theoretical tools we even had. It became my task to link theory and practice." First of all, he got the information from the programming department, "Then I just went into the workshop, found a tool and tried to put it in CAD form and record it in the stock." Back then he had to learn a lot the hard way, "today, this kind of data is usually readily available from a variety of sources."
Radical Change at the Turn of the Millennium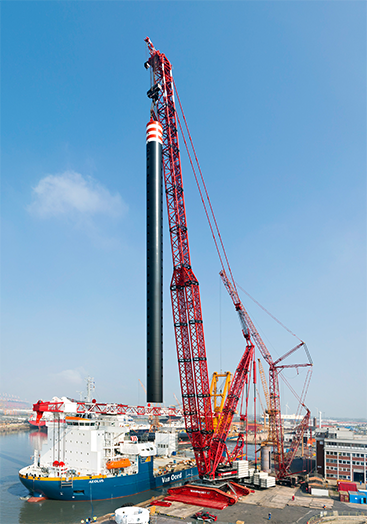 The decisive change, however, came in the year 2000. At this point, there was indeed a management program "with a good structure, item numbers and everything else that goes along with it." But the program, which was created especially for Liebherr Ehingen, was not Y2K-compliant. "We were faced with the question of whether we should develop something of our own again, but after having good experiences with TDM Systems on the group level, the decision was made quite quickly."
The most important advance for Manfred Treß is the linkage of workshop, machine and programming department, "all those involved in the process can access the same source of information." He makes this clear with a simple example: "We cannot drill a hole that the designer has planned if we do not have the drill in the workshop." If the drill is missing it needs to be acquired, which the buyer in turn needs to know in due time. "The communication needed for this now works perfectly."
Another deciding factor for choosing the TDM solution: the continuity in its development. "A program such as this one must be developed continuously, with particular attention always being paid to the user's actual needs." The best program is worth nothing if it subsequently becomes so complicated in the workshop that "no one understands it anymore. Everyone from the department should be able to understand it and work with it at the outset." In this context, the integrity of the data is important, which is why he is critical of excessive leaps in program versions in a short time: "We repeatedly have difficulties keeping up with some programs. We just can't do everything differently every two years." However, Manfred Treß thinks the 'Tool Lifecycle Management' being introduced by TDM Systems now is a sensible development: "I think it's a logical development in the right direction, also in light of Industry 4.0."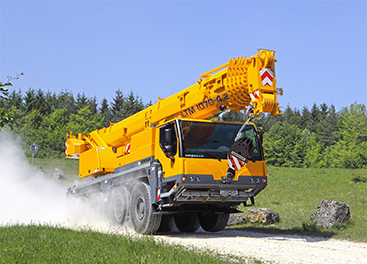 Manfred Treß has now been in the profession for almost two generations. Almost everything has changed. "The machines used to be less encapsulated than they are today. Back then the chips still flew up in our faces." Treß, who is always interested in new things, does not dwell on nostalgia. Nevertheless, he sees the potential for risks if the profession is given an absolutely clean image to win over the "young generation": "The feeling for the material threatens to be lost if everything happens behind closed doors." People will still be needed in the future who not only press buttons but who get a feeling for the process and are effectively able to read the chips to see if everything is running perfectly. Yet there will be more time for precisely this sort of thing if the right tool is at hand and if you do not have to pilfer it from colleagues as in the past.
Liebherr-Werk Ehingen – the Company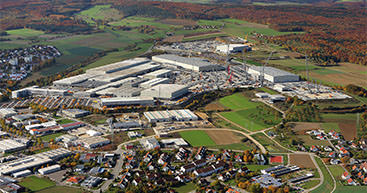 Liebherr in Ehingen has established itself as the global market leader in mobile cranes with a large number of its own subsidiaries and excellent service throughout the world. Continuous investments in a high standard of customer service and in its sales and service locations in every continent has meant that Liebherr has been able to record excellent success all over the world.
Liebherr-Werk Ehingen GmbH was founded in 1969 and celebrated the delivery of its 20,000th crane in 2006. Since then 10,000 more Liebherr mobile cranes have been delivered to customers all over the world in less than eight years. With a current market share of around 48%, almost one in every two all-terrain cranes manufactured in the world comes from the Liebherr works in Ehingen.