In the 1980s, a small team in the manufacturing organization of Walter AG in Tübingen makes history. The idea is to manage tool data digitally, in one software, everything available at the push of a button, the tools visualized with graphics. In the midst of a new manufacturing environment, they developed one of the first ever digital tool management software solutions. The solution generated a lot of interest, as many other companies were also experiencing the same challenges with tool availability. The presentation of the first version of the TDM software at the Hannover Messe trade fair in 1989 marks the beginning of a lasting success story. The company was founded in 1993 as an offshoot of Walter AG – the birth of today's TDM Systems GmbH, which currently has more than 120 employees and supports over 15,000 users at over 850 customers worldwide in managing their tool data. As a member of the Sandvik Group (since 2004), TDM Systems has been drawing on the expertise of leading international tool manufacturers for two decades. Today, TDM Systems offers scalable solutions that manage tools and their data, network systems in planning and production, and thus comprehensively optimize manufacturing processes.
100% tool management – 30 years of innovations
From and with people
Jean-Paul Seuren has been running TDM Systems since September 2021. The Managing Director says of this year's anniversary: "The success of our company is based on the expertise, ideas and commitment of our employees." 30 years of experience in the development of software and solutions for tool management and a strong group behind us make TDM Systems a valuable, reliable and powerful partner for our customers around the world. "At TDM Systems, we live in a world of data and software, but never lose sight of people. With a unique wealth of solutions, we enable our customers to meet and exceed their productivity goals – which fills us with pride every day and inspires us to keep innovating."
The development from a small software company to a competent digital partner in the manufacturing industry over 30 years is a great success. Of course, this also includes some trial-and-error phases. These are not always easy, but are essential for the further development of the solutions, but also contribute enormously to TDM Systems as a company itself. "This is the only way a company can continue to develop and learn. Customer discussions turn into ideas and from there into solutions for real applications. That's how we keep learning, and that's why we're so strong today," says Jean-Paul Seuren proudly.
Consulting, Projects and Service – they are excited about tool management
The fact that TDM Systems is a sought-after partner for many companies today is primarily thanks to its people. Some colleagues from the areas of Consulting, Projects, Service and Development come directly from manufacturing practice. Customers are often supported for years by the same project and service colleagues, who develop the application step by step together with the customer. TDM Systems has worked in partnership with many of its customers, some of whom have been with TDM for 30 years. "If the contact persons at our customers are just as passionate about digitalization in tool management, the work is really fun and the project will be successful, which also makes us happy," Matthias Gröger, Head of Pre-Sales & Consulting, tells us. He, too, comes from a background of implementing TDM at his former employer. Today, he advises companies on tool management and the introduction of TDM and knows from many consultations "that digitalization is only just gaining momentum".
The TDM data professionals love tool data
As early as 30 years ago, the founders of TDM Systems recognized the need for tool data for production planning and this became a success story. As the only provider on the market today, TDM Systems offers tool manufacturers and TDM customers services for the preparation and creation of tool data. New TDM users often simply lack the time and expertise to build up a tool database. The data team handles the creation of the tool items and assembles the tool assemblies, including 3D graphics. "The users can start using the TDM application within a few weeks and receive an excellent database from us, which lays an essential foundation for the project," explains Engin Özkan, Manager Tool Data Projects at TDM Systems. He also comes from a tooling background and has been working with tool data for years. Data services for tool manufacturers have been offered by TDM Systems for many years: Data catalogs from leading tool manufacturers and distributors have been digitalized by the TDM data team and represent an important sales and service strategy for tool suppliers. "Data has become an important purchasing criterion for tools and we provide tool manufacturers with our data and digitalization expertise."
TDM Systems in the Sandvik Group
Digital expertise in the right place
Digital solutions are also an important, strategic "tool" for the Sandvik Group: Whether in its own production or as part of the solutions portfolio, TDM Systems' digital expertise has an important place in the Sandvik Group. And TDM Systems supports the tool manufacturers in the Group in a variety of ways. On the one hand, they successfully use the TDM solutions for their own tool production at various locations worldwide. On the other hand, TDM Systems successfully supports tool manufacturers as a software, consulting and development partner for digital customer projects of Sandvik companies. "Our 30 years of expertise is in just the right place in the Group and we can support the digital strategies of tool manufacturers enormously with our development skills," says a delighted Robert Auer, Director Global Business Development at TDM Systems. "There's a lot of interest in developing innovative digital offerings, and we're happy to be part of it as the digital solutions of the future are developed."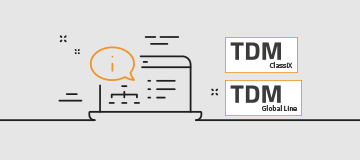 TDM Online Help – TDM application know how directly available in the application
Find out more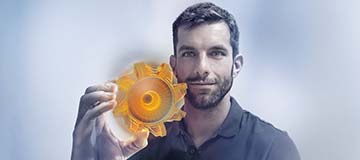 New key visual and key message: 100% Tool Management – a message that moves
Find out more