The new 2023 release – plan and control your processes with even greater ease!
With the current 2023 release, we are offering our users comprehensive updates for operational applications. This means you can benefit from even better application options each and every day: New modules, new filter options and new statuses allow you to schedule your tools with even greater transparency or to calculate your requirements for the coming weeks. Generate transparency and always remain able to take action with just a few clicks. Your data and application will become even more valuable overall – for greater efficiency and success. We look forward to introducing you to the highlights of our TDM Global Line and TDM ClassiX software lines on this page.
TDM ClassiX has undergone a comprehensive facelift to adapt it to the modern design standards of MS Office. The design and handling were developed further. Processes have been revised and have become simpler and more intuitive with the new design. The result is a completely new, clean user interface design that will surprise you:
Four new design themes are available: Colorful, dark gray, black or white
More intuitive working and better function overview thanks to the new ribbon bar
Improved menu guidance thanks to easier addition of favorites and content-related filters
New module: TDM Range Calculator
Downtimes are a thing of the past – calculate your tool requirements now and order at the right time!
Are you able to estimate how your tool stocks will develop when scheduling new orders? Which tools will be particularly strained? How will your stock develop when taking regrinding into account? With the TDM Range Calculator, you can calculate the range of your tools for upcoming orders. Receive realistic calculations of how many days your stock of each required tool will last and when you need to start reordering. Here you can access the new TDM Range Calculator module.
More than 260 modifications in many modules and applications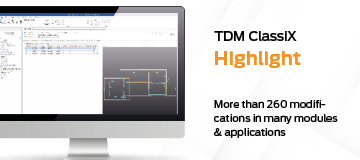 The new release implements more than 260 items: Thanks to many detailed improvements and expansions, many TDM ClassiX modules have been comprehensively updated and improved with a focus on the customer. Among others, these include:
Optimizations in the data management of tool assemblies with regard to collisions, feeds & speeds and 3D/2D graphics conversion
Extensions for TDMshopcontrol, e.g., determining the ideal machine, the generator for duplo numbers and the availability display for productive NC programs
Extensions for data consolidation for more efficient data management
Improved tool assembly processes
We have developed the following functions to make tool assembly even more efficient and to integrate the individual processes and systems even better:
Support of RFID data carriers for seamless data exchanges
Faster entries for set-up orders thanks to multiple selection of tools
Crib entries via Casio barcode scanner
Custom definition of access permissions for cost centers in the crib
NEW: The TDM Fixture Management Module Global Line
The proven TDM Fixture Management Module is now also available for Global Line applications! With this, TDM Global Line is expanding the range of modules and enables comprehensive fixture management for users. These are an essential part of production and set-up scheduling and need to be at the machine at the same time as tools and other production resources. The Fixture Management Module convinces with many practical functions for transparent data management. You can find the module description here.
New status options for more transparency in tool usage
Keep an overview of all your tools and make use of the new tool status, which can be used to specify the tool use. This makes it even more transparent to see which tools can be used and which are not available at any given time. You can assign the following statuses: New entry – Locked – Phase-out part.
New filter options in the Shopfloor Manager for better usability
The Shopfloor Manager now offers several new filter options to identify tools with certain status options even faster and, for example, to prepare sister tools for a current job even faster. With these filters, you can work faster and more efficiently:
Remaining tool life filter: For detecting critical tool life in time
Status filter: For showing all tools with the same shopfloor status
Requirement time: For sorting tools by the time when they are required
Quick filter: For pick lists and unassigned tools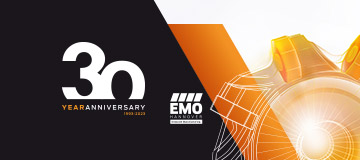 30 years of tool management: TDM Systems is celebrating its company anniversary and looking forward to the digital…
Find out more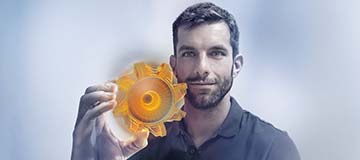 New key visual and key message: 100% Tool Management – a message that moves
Find out more