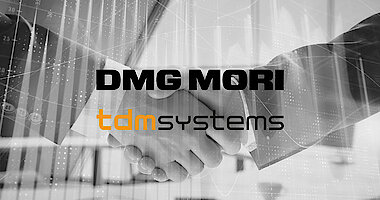 This partnership is a strategically important step to expand our offering in the field of digital tool management. We are looking forward to working closely with DMG MORI and will jointly launch another digital tool management solution for small, medium and large enterprises," says Dietmar Bohn, Managing Director TDM Systems.
DMG MORI is a leading global manufacturer of machine tools with around 7,200 employees. They drive future technologies forward dynamically and with excellence. DMG MORI's product portfolio includes turning and milling machines, the advanced technologies Ultrasonic, Lasertec and Additive Manufacturing, as well as holistic automation and digitization solutions.
TDM Systems is the leading software provider for managing the entire tool data lifecycle in the metal cutting industry. The company offers a wide range of software solutions to optimize the planning and provisioning of cutting tools. With more than 25 years of experience in the industry, TDM Systems helps customers lower tooling costs, reduce machine downtimes, clearly track and optimize tool stocks, and improve the availability of tools.
"Together with such a strong partner, we are opening the way to Digital Tool Management. We are delighted about the great partnership and the joint Digital Journey," Bohn concludes.