Since 2022, Kevin McGuire is on board of TDM Systems US-subsidiary in Chicago. The Sales Director has big plans and a great vision for the TDM Systems US business. "Manufacturing companies are currently all experiencing the same issues when it comes to their machine tooling which is a lack of understanding of the tooling they have today," says McGuire. "Our solution not only gives them the visibility they need but also assists in driving their production output higher. TDM connects their shopfloor at every step in the manufacturing process. Our software improves data reliability, establishes streamlined workflows while optimizing the entire manufacturing process. Kevin has every reason to be optimistic supporting US industries with digital tool management. Behind him stands a team with experts in managing tools, manufacturing processes and software projects.
Service experts: Great expertise helps customers
Founded in 2006, TDM Systems Inc. integrates individual experience, knowledge, expertise and different skill sets. The US team presents competencies from sales & marketing, consulting, service, and project management. The Service & Project Management team is experienced in managing complex projects and dedicates the necessary time and collaboration with the customer to define needs, review priorities and create an action plan and roadmap to drive success. With Eric Graber, Henry Miller and Gery Buk, TDM Systems Inc. provides highly experienced specialists who have been working in the manufacturing area for decades. Their experience is the base for planning, managing, and realizing customer projects. With our focus on the customer, the US team is directly helping production teams to find operational efficiencies, raise their competitiveness and flexibility, improve quality, and streamline processes. "Digitalizing the tooling data can be an intimidating project, but once this has been done, the data is put to work for you saving significant operational budget and time in the future," explains McGuire.
Sales team: "Data services are the game changer"
TDM solutions can support every industry where chips are removed and the sales team including Renae Dabney, Nathan Woodsum, Joshua Ryan and Daniel Sanchez Chavez is mindful that each customer is different. Identifying their unique business goals and priorities regarding their digital strategy is one of the most important steps at the very beginning of a customer relationship. "We address the challenges in their day-to-day work and create workable solutions," explains Joshua Ryan. What makes TDM Systems different from other software companies is the wide variety of valuable interfaces to other systems in the manufacturing environment," explains Joshua Ryan. Getting connected to the systems and supporting them with tool data is the main advantage in selling TDM solutions. With TDM providing Data Services for customers, the Sales Experts actively integrate this topic into each sales discussion. This service provides the complete filling of the individual tool database. The Data Experts from TDM take over the creation of tool data after analyzing the tool stock. "The data is created according to the requirements of the CAM systems that are in use. So, the customer can start with highly valuable data that fits perfectly for managing tools digitally and also for their CAM systems. This saves time and brings digitalization ahead fast," explains McGuire.
Partnerships & cooperations: Valuable network that supports customers
TDM Systems Inc. is also immensely effective when working with well-known partners. For many years, the US-Team is cooperating with Parlec/OMEGA and has realized many successful customer applications. As TDM Systems belongs to the Sandvik Manufacturing Solutions Area, there is a mutual collaboration with other Sandvik brands like Mastercam, Gibbscam, CGTech and Cimatron. The team around McGuire also works closely with tool manufacturer brands from Sandvik like Sandvik Coromant, Seco and Walter. Bringing tooling expertise and digital solutions together is the best strategy for increasing customer success and strengthening their competitiveness. A big advantage for customers of all tooling brands is the availability of tool data in the TDM WebCatalog. This allows customers to create digital twins of the tools in a few clicks. Further partners like Swoosh Technologies are part of a good network of TDM Systems Inc. in the American market. "We strive to bring Industry 4.0 and seamless connectivity to the American industries, and I am happy to be part of it", says McGuire.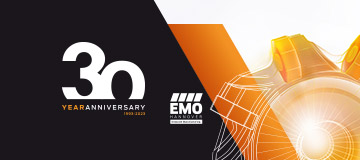 30 years of tool management: TDM Systems is celebrating its company anniversary and looking forward to the digital…
Find out more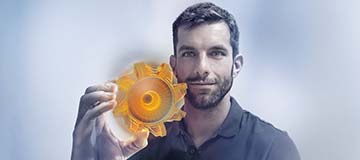 New key visual and key message: 100% Tool Management – a message that moves
Find out more