Digital knowledge pool available 24/7
The TDM Systems digital customer portal is an important link to TDM users. The Virtual Academy is one of several categories here and focuses on learning videos and webinars. Currently available are a total of 182 videos (each in German and English), split into courses and lessons on modules and interfaces. "Users can put together their own study plan and find information on content they have already covered and lessons that are still missing," explained Stefan Schmid, Head of Global Services and Virtual Academy Project Manager. In addition, users receive information on new videos and individual recommendations in the dashboard. "This means users can progress from TDM beginners to TDM experts based on the number of points awarded," said Schmid. This enables individual further training, irrespective of time and place. The e-learning videos are also of great benefit in daily application. Ultimately they provide detailed answers to questions on use, leaving the users able to take action without having to contact the Technical Hotline.
New section: Tool families
"The Virtual Academy is intended to grow in a practical manner and provide users with a genuine benefit," according to Stefan Schmid. For this reason, before planning the new section, the most frequent requests and problems raised with the hotline were analyzed in detail. "This time, we didn't want to show the simple use cases first and then connect with the more challenging use cases. Our aim was to directly tackle the use cases that the users obviously find difficult." The analysis showed that questions are often asked regarding data creation for turning and grooving tools. These tools require additional parameters during manual data input, especially if the tool data is then to be used for CAM integration.
To make this process more transparent overall, the new "Tool family" section was created. "We have grouped together the creation of similar tool types and classes and explain in detail what the user must pay attention to during data creation, starting with choosing the correct classification." In the next step, the use cases for the "Turning – Thread", "Turning – General" and "Drilling – Reaming" families are added to the "Turning – Grooving" use case. In the long term, videos on data creation for more than 30 different tool families are planned.
Only for users with TDM Software Maintenance Contractplus
But not every TDM user has access to this knowledge pool. "The establishment and provision of the high-quality videos takes up a lot of our experts' time and resources. That's why access is reserved for customers with a TDM Software Maintenance Contractplus," said Schmid. After all, the videos are planned and produced in detail. In addition, they are made available in both German and English, and roll-out for other languages is also being prepared.
Would you like to find out more about the advantages of the TDM Software Maintenance Contractplus? We would be happy to support you and provide you with information.
Contact form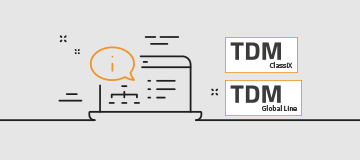 TDM Online Help – TDM application know how directly available in the application
Find out more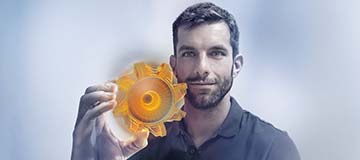 New key visual and key message: 100% Tool Management – a message that moves
Find out more