More digitalization, better data management and much more - Our main releases are full of highlights -
Thanks to the intensive exchange with customers and analyses of TDM applications in companies, we were able to "pack" many improvements and innovations into the new software versions. Some applications have been optimized in such a practical way that their full potential can now be exploited.
We don't want to reveal too much yet, but one of the highlights of TDM Global Line 2020 is that the new release gives users greater transparency with regard to their tool costs and key figures. You will also be delighted with our new modules.
TDM 2020 is also making a big impression. In addition to various optimizations, this software version includes a new module that closes the gap between planning and production.
Highlights of TDM Global Line: More digitalization through new modules, visual cost reporting and even more efficient data management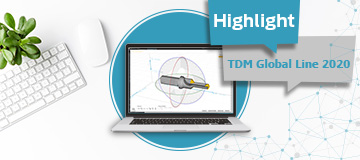 1st Highlight: Improved data and graphics management increases the potential use of your data
In the new release, several improvements have been implemented that greatly simplify data and graphics management. With the new TDM 3D-Solid Editor, 3D tool models can be easily modified and adapted. In addition, parameters from 2D tool graphics can be directly transferred when creating data. Targeted visualizations and other improvements maximize the potential for using your data.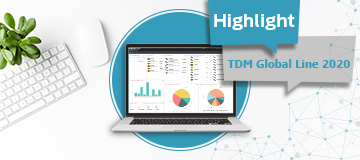 2nd Highlight: More cost transparency: Smart reporting in the configurable dashboard
The dashboard is a true all-rounder, because it reflects the individual information needs of a user. New in the 2020 main release is the visualization of reports and evaluations with real-time data from TDM. This allows you to see exactly the key figures you want to keep track of and take immediate action if necessary.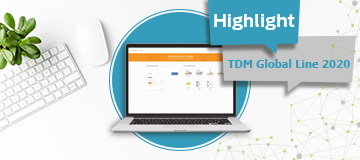 3rd Highlight: Advanced user comfort, improved processes and remote capability
The user interface of TDM Global Line is highly advanced and complies with the worldwide application standards defined by Microsoft. This enables a fast and intuitive use of the software. The software is fun to use and will quickly become an integral part of your production. Cloud readiness and remote capability ensure flexible working, even in the home office. The TDM WebCatalog is our current cloud solution, data can be easily downloaded and created online 24/7 from the WebCatalog to TDM Global Line. In addition, easy remote access to TDM Global Line allows flexible working.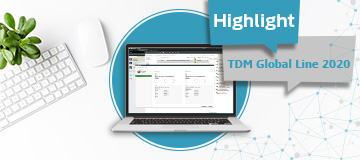 4th Highlight: NEW - Transparent NC program management secures manufacturing processes
The new TDM Integrated NC Program Manager manages, organizes and archives your NC documents, closing the gap between production and NC programming. Optimizations on the machine are fed back into the NC programming, and uncontrolled changes are prevented by clear access control. This increases safety and realizes a transparent traceability of the production of each workpiece.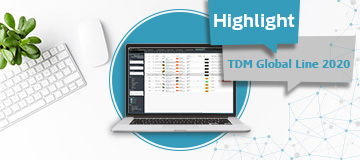 5th Highlight: No missing tools: Now orders can be placed with exact quantities and times
The new TDM Purchase Request Module Global Line simplifies the management of tool requirements, because it directly forwards the collected purchase requisitions for tools and other production equipment - to the ERP system or, for example, to the company's purchasing department. The new minimum stock query forms the basis of the purchase requisitions and ensures optimum stock levels.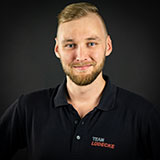 "The new main release brings along many new features and some useful improvements. I especially liked the integration of the 3D Solid Editor and the possibility of NC program management within Global Line. For our team it was a very good opportunity to participate in the development of the product through the RampUp phase.
I especially liked the personal contact and the support on individual topics by TDM Systems."
Peter Eckl, Tool Management, Lüdecke GmbH in Amberg, Germany, specialist for coupling systems
Highlights of TDM: Better usability, more visuality and new, innovative cutting data optimization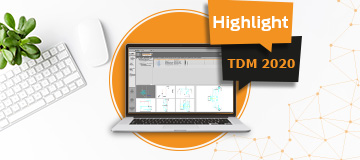 1st Highlight: Improved, practice-oriented data and graphics maintenance
The release simplifies 2D graphics management. For example, parameters can be taken directly from 2D tool graphics or measured directly in the graphics. A new tool assembly display via tree structure visualizes complex tools and brings more transparency to tool assembly. Machine-specific parameters are managed directly in the master data and optimize the data exchange with the machines.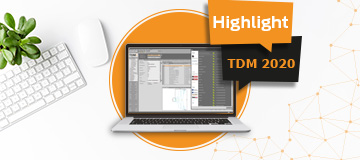 2nd Highlight: Optimized CAM data management improves the data flow
Until now, users could already display CAM-specific tool data for NC programming in a data tab. Now a data checker performs the completeness check of these for the respective integrated CAM systems and enables users to enter missing data directly. This increases the transparency and quality of the NC-specific tool data and thus also of the NC programs.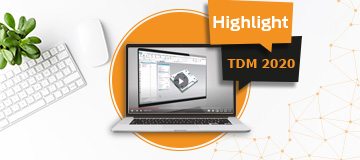 3rd Highlight: New, automated collision data calculation for CATIA and SIEMENS NX users
Especially for CATIA and SIEMENS NX users, the automated calculation of collision data offers enormous time savings. The data is calculated based on stored formulas and tool parameters. Additional control mechanisms and dimensions enable completion and ensure good data quality.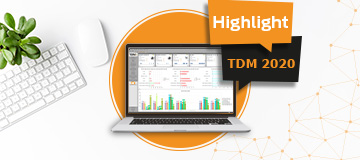 4th Highlight: New TDM module: Visualization and optimization of actual applied cutting data with the TDM Feeds & Speeds Manager
The new TDM Feeds & Speeds Manager, in conjunction with the Comara-Box, records the actual applied cutting data from the machine and evaluates it in detail. This means that planned cutting data can now be verified for the first time. The results are stored with every tool assembly and lead to significantly more reliability and planning security.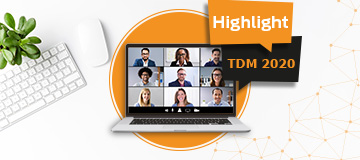 5th Highlight: Transparent system controlling & monitoring for fast problem analysis and improved software service
Some improvements have also been implemented in the new release regarding service and system support. A continuous system analysis enables a transparent presentation of system usage and forms the basis for rapid problem analysis and solution finding by the TDM service.
Would you like to learn more about the highlights of TDM and TDM Global Line? Please do not hesitate to contact us!
Contact us
News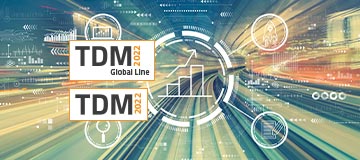 New main release TDM Global Line 2022 and TDM 2022 - make use of the opportunities offered by combined application...
Find out more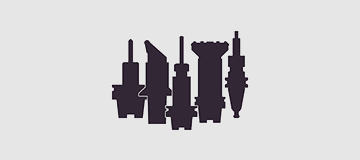 With the entry-level solution TDM Cloud Essentials, companies are starting to record their relevant tool data...
Find out more