More flexibility and digitalization required
Due to the current situation, more and more manufacturing companies are beginning to let as many employees as possible work from home. "By now we have some customers who have even relocated NC programming to the office in their home," says Patrik Nellinger, Solution Owner for TDM Global Line. He creates the road map for TDM Global Line and is regularly in direct contact with Global Line users. "This trend has become apparent since the outbreak of the pandemic, but is still on the increase," Nellinger says. Thanks to data compatibility between TDM and TDM Global Line, it's very easy for TDM users too. To do this, both systems are used in hybrid mode in parallel.
Efficiency during the pandemic
The right solutions are vital here so that users are able to work at high performance, even whilst working from home. Two areas of application are particularly suited to TDM tool management: Data maintenance and NC programming. "This is easy to implement with TDM Global Line because the application communicates with the server via the web service. Users can use TDM Global Line as before. The only prerequisite is a connection to the company network (VPN)," explains Nellinger. If new tool data is created, the TDM WebCatalog can be used. Tool data records from nine leading tool manufacturers are available in the cloud application and can be loaded and applied to TDM Global Line in just a few clicks.
NC programming with complete data access
Alongside data maintenance, CAM interfaces from TDM Global Line can also be used when working from home. This means that the digital tool assemblies required for an NC program are selected in the CAM system as usual and loaded into the NC program via the web service. Even 2D/3D tool models can be used for NC programming and simulation analysis. Numerous TDM users are already reporting how straightforward it is to use NC programming from home and are enthusiastic about the solution from TDM Global Line.
Up-to-date releases are a prerequisite
These opportunities are linked to particular technical prerequisites. If using the Global Line 2019 version or later, the software can be used when working from home. This is also of particular interest to active TDM customers. In hybrid mode, data creation and maintenance with Global Line can be relocated to your office at home. This is the case for automotive supplier KS Kolbenschmidt in Neckarsulm, Germany. The technology specialist in piston and piston ring technology has already shifted some planning processes to home workers over the past year. "Thanks to TDM Global Line, we can maintain our tool data and carry out CAM programming easily from home. It's very useful in the current situation," says Wolfgang Köhler, Head of the Tool Management team at KS Kolbenschmidt.
Getting started at home and reducing costs in the short term
Even new TDM Global Line users who are starting to build up a database can create data while working from home. "The pandemic is currently providing the ideal conditions to realign ourselves in a digital way, or tackle projects that have been in the pipeline for a while. That includes introducing a tool management system," says Robert Buschmann, Director of Sales EMEA at TDM Systems. TDM Global Line provides comprehensive flexibility to create a digital tool database, even remotely. "Make use of this time and invest in the digitalization of your shopfloor. In just a few months, you will benefit from significantly reduced tooling costs and significantly reduced downtimes in production," promises Buschmann.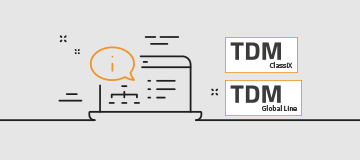 TDM Online Help – TDM application know how directly available in the application
Find out more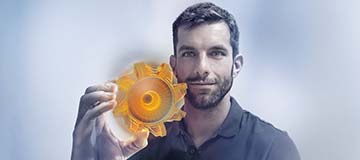 New key visual and key message: 100% Tool Management – a message that moves
Find out more