We know what makes up good software – benefit from our strengths!
For the version2022, we have continued to work on the most important features of our product strategy: Intelligent data management, high integration capacity and intuitive application. The new main release supports this and even further expands data management and integration capacity in particular. With a multitude of new features in both systems, we have implemented practical optimizations and customer requirements, and further expanded and improved both software lines in many places. Check now in which areas you can optimize your resources with TDM – we have the right ideas and solutions!
Our 2022 highlights at a glance
With this main release too, we ensure the innovative further development of our systems TDM and TDM Global Line, and offer you even better solutions for your digital strategy.
Would you like to find out about the highlights? Then you're in exactly the right place! This is where we publish our new features and innovations from TDM Global Line 2022 and TDM 2022.
We invite you to find out about the highlights. Follow us to stay up to date!
Highlights from TDM Global Line 2022: Improved system application thanks to practical system administration and intuitive user-friendliness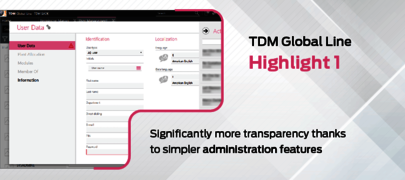 1st Highlight: Significantly more transparency thanks to simpler administration features
In the new main release, our TDM Global Line development team has grappled with simplifying login scenarios and the assignment of rights. With the new main release, TDM Global Line supports the connection to your company's own Windows login server. An additional login for TDM Global Line applications thus becomes unnecessary, and the security of the login process is simultaneously significantly increased. In addition, targeted rights up to a functional level can be assigned in the expanded rights management – and thus application profiles are consistently implemented. That gives you greater transparency and control regarding all applications and rights. On top: easy and intuitive configuration of a cross-company standard for assigning unique IDs.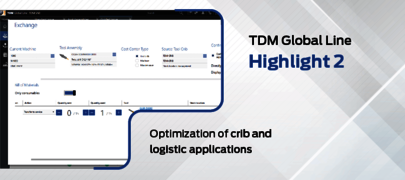 2nd Highlight: Optimization of crib and logistic applications
Crib handling should be fast and uncomplicated, which is why we have further simplified this process. With the new quick-entry function, crib bookings can be started directly from the item, tool assembly or list level. An additional bonus is that, in the event of tool breakage or upon reaching the wear limit, items in tool assemblies can now be replaced quite easily. Gauge and calibration equipment can now also be entered in TDM Global Line – if you are using the TDM module MPO. TDM Global Line now enables consistent provision of all production aids.
3rd Highlight: Expanded ERP interface for consistent order processes
Many TDM Global Line users create their purchase requests in TDM Global Line and transfer these to the ERP system. This requires an integrated data exchange of both systems. With the new main release, we have created the basis for data synchronization and thus also the tool ordering process to run continuously. The purchase requests can now be transparently tracked until the goods are received. This gives you absolute transparency and process reliability in the procurement of tools and in crib management. New: The SAP interface is now fully available for TDM Global Line!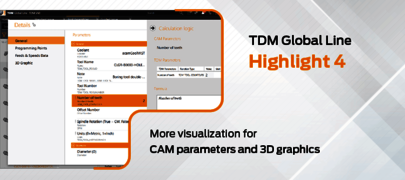 4th Highlight: More visualization for CAM parameters and 3D graphics
In the field of planning and in the management of CAM parameters, we have made targeted improvements to some applications, in order to further simplify data preparation and reduce time spent. Overall, the innovations create more transparency and efficiency in the processes of CAM data support. New functions in the TDM 3D-Solid Editor ensure easier preparation of 3D models. CAM data mapping has been visualized and the master data can now be adapted in the CAM dialog. The user interface for the management of collision data has also been improved. On top: Items from the TDM WebCatalog can now also be imported offline!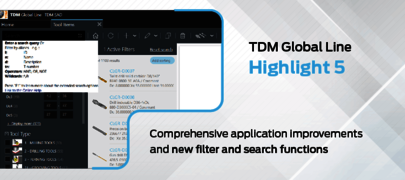 5th Highlight: Comprehensive application improvements and new filter and search functions
We have set ourselves goals in application development – every application should be handled with as few clicks as possible and simultaneously be as intuitive as possible. In the new main release, we have simplified some applications and consequently increased usability. Overall, more than 50 features have been implemented – and we are proud of that. With the new wildcard search, you can search even more comprehensively by using *placeholders before, in and after the search terms. Forms can now be printed out directly. Overall, these improvements ensure simplified application and greater efficiency in daily use.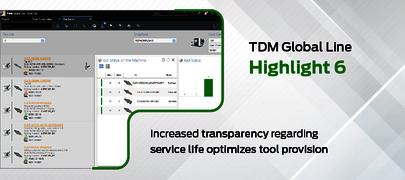 6th Highlight: Increased transparency regarding service life optimizes tool provision
The TDM Shopfloor Manager is the TDM Global Line module that optimally supports the tool provision process. To ensure that tool provision is proactively guaranteed at the machines at the right time, tool life is fully visualized in the new main release: The remaining service life and its advanced warning limits are now displayed even more easily. This is enormously important, as the timely and punctual provision of the required tools depends on this information. In addition, the technology of TDM Global Line has been even better targeted at directly connecting machine control systems. This is an important building block, especially regarding digitalization on the shopfloor.
Go to the TDM Shopfloor Manager!
Highlights of TDM 2022: Innovations in data management – more efficient generation, analysis and provision of data and graphics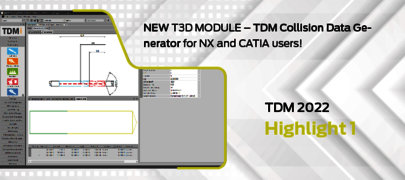 1st Highlight: NEW T3D MODULE – TDM Collision Data Generator for NX and CATIA users!
CATIA and NX users know what an effort it is to measure and enter collision data for NC programming. This is now a thing of the past! The new TDM Collision Data Generator generates these automatically based on the items generated in the TDM Data and Graphic Generator. For newly created items, the collision data is directly generated. For items that have already been created, the collision data can be generated subsequently. Take advantage of the maximum time savings in the collision data system from 3–10 minutes to just a few seconds per item. Find out more here!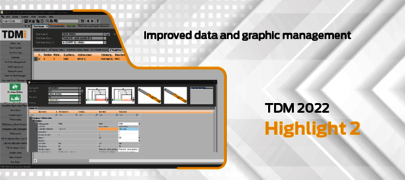 2nd Highlight: Improved data and graphic management
As you know, the better the data, the more benefits the TDM application offers. We have improved the TDM Import Assistant so that you can now merge quality data from various sources even more easily. Tool parameters of various data sources can now be displayed and selected. This way, you can select the best data for your tools. Just as new and useful: The automatic dimensioning of 2D graphics. Now configure the dimensioning types that are important to you for each tool type, and TDM generates these at the touch of a button. Plus: Improvement of the metric inch support for optimal inch usage of the system.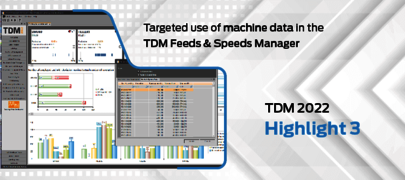 3rd Highlight: Targeted use of machine data in the TDM Feeds & Speeds Manager
In the last main release, we introduced our new data module for the verification of driven cutting data: The TDM Feeds & Speeds Manager. With this, actually driven cutting data from the machine is compressed and analyzed, and possible improvement potential is visualized. In the new main release, tools used for an NC order can now be saved in TDM, summarized as a tool list. This allows the programs that are run to be evaluated in a more targeted manner. In addition, the TDM database can now be populated from the machine with the available data. A completely new starting point for the first data creation and an ideal basis for later completion. On top: Direct comparison of the actual driven
values with the planned target values, and calculation of the possible saving potentials as percentages.
Find out more about the TDM Feeds & Speeds Manager!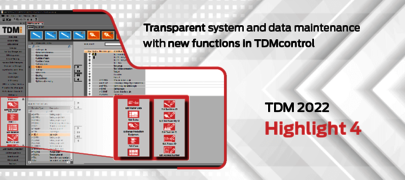 4th Highlight: Transparent system and data maintenance with new functions in TDMcontrol
No doubt about it – keeping all data up to date and, above all, consistent is an effort. But we have a solution for this too: TDMcontrol offers you comprehensive support in data and system maintenance, especially regarding classifications and allocations. For the new main release, this module has been subjected to a complete system check. There are also new applications: When changing a tool class, the parameter allocations of the tool are now automatically adapted. Moreover, individual production equipment can now be found and replaced in tool lists.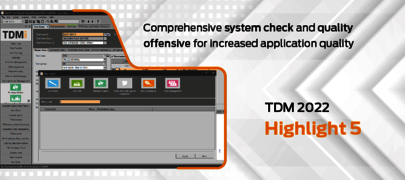 5th Highlight: Comprehensive system check and quality offensive for increased application quality
We have checked many customer suggestions and implemented many improvements and optimizations. There is now direct access to the recently most used applications – which saves a huge amount of time in particular for users who regularly use the same applications. There are also further improvements in the TDM Tool Crib Module: Several items can be withdrawn simultaneously with a few clicks and the individual items in a pick list can be processed directly.
Information on new release name 2022
We have decided to change the rhythm when naming the main releases by skipping a release name (2021 main release). You use a new release primarily in the year following release – in this case 2022 so this is why we are naming the releases in this way in the future. The 2023 main release will therefore be available in 2022.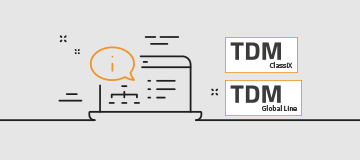 TDM Online Help – TDM application know how directly available in the application
Find out more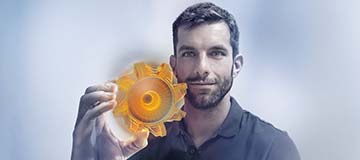 New key visual and key message: 100% Tool Management – a message that moves
Find out more