Experts presented the entire solution portfolio
The virtual TDM Day 2021 was held as a German-speaking event on one day, and as an English-speaking event the next day, with the content designed in such a way that the talks reflected the entire solution portfolio of TDM Systems. "It was important for us that our experts presented the entire solution portfolio, so that the individual talks would offer the right topic for every user and prospective customer," said Sandra Müller, Head of Marketing & PR at TDM Systems. And it worked, as demonstrated by the keen interest shown by the participants.
Integrative digital strategy from a single source – Sandvik DPA & TDM Systems
For Sandvik, sustainability and climate protection aren't just empty phrases, as demonstrated by the keynote speaker at the event, Mathias Johansson, President of the Design & Planning Automation Division at Sandvik Manufacturing Solutions. He opened the virtual conference together with Jean-Paul Seuren, Managing Director of TDM Systems, giving insights into the solution strategies of Sandvik's "Design, Planning & Automation" (DPA) division. One of this division's aims is to create a production-oriented platform on which production data is optimally positioned and available. In this way, DPA wants to offer production companies integrative solutions for optimal data provision and for greater automation and value creation from a single source. To do this, DPA is working with solutions by Comara, GibbsCAM, Mastercam, Vericut and TDM.
Personal customer visits – The essence of our business relationships
In his opening speech, on the other hand, Managing Director Jean-Paul Seuren stressed the importance of personal closeness to the customer: "You can of course discuss a lot in virtual meetings, but nothing can replace a personal, face-to-face meeting with our customers, sitting around a table. That's what brings our customer relationships to life and I can't wait until we are one again able to hold the TDM Day on site with one of our users." That's also the opinion of Markus Kuhn, Head of CAM Programming & Tool Management at mechanical engineering company TOX PRESSOTECHNIK in Weingarten. "The TDM User Day is an absolute must for all TDM users." But it's not just the talks that are important – networking is also extremely valuable for all TDM users: "This is where I established a network with other users, and we exchange ideas regularly, which helps me with decision-making regarding the further development of the entire TDM application at TOX."
Inspiration for users: Trends and feasible solutions
The mix of talks is also likely to have provided incentives to upgrade, because current trends in production management were presented here. For example, the new TDM Cloud Essentials cloud solution, shopfloor management, new machine connections, cutting data verification with the new TDM Feeds & Speeds Manager, management of tool cabinets or the new range calculation were presented. The objective, as ever, is to show the users how and with which solutions they can further expand their application and system landscape and identify new approaches to increase efficiency.
An absolute hot topic at the TDM Day 2021 was machine connection as an extension to Shopfloor Management. "There are two main reasons why communication with the machine control units makes sense: On the one hand, the tool inventory can be carried out based on the current machine stock, and on the other hand, the remaining tool life can be automatically fed back at inventory level," explained Matthias Gröger, sales specialist for machine connection at TDM Systems. Even transmitting the actual measured data to the machine significantly shortens the setup time. Data transmission to the machine control system can be started via Data Matrix Code – through which the tool is identified. There is therefore no need at all for any manual data input at the machine, which is a significant advantage over the previous manual input of the tool offsets. With the TDM Shopfloor Manager, tool life can also be tracked and corresponding duplicate tools can be requested in good time. An advantage that pays off even in the event of a tool breakage.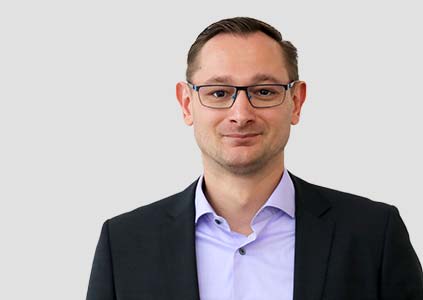 Communication with the machine control units makes sense: On the one hand, the tool inventory can be carried out based on the current machine stock, and on the other hand, the remaining tool life can be automatically fed back at inventory level.
Matthias Gröger
Sales Specialist for Machine Connections, TDM Systems

TDMstoreasy – The vending solution with high interest factor
The talk about the TDMstoreasy flexible vending solution was one of the most popular talks of the day: Christian Fischinger, Regional Account Manager for South Germany & Switzerland and an expert from practice, spoke about 24-hour reliable production equipment availability with consumption checks and cost transparency. Whether the application is used standalone or integrated in the TDM environment with the TDM ToolCrib module, with TDMstoreasy all cutting tools and other consumables can be accessed individually. This creates transparency in terms of prompt purchase requisitions. Since different vending systems, such as spiral cabinets, drawer cabinets or other vending types can be controlled, it is easy to implement integrated crib and logistics concepts.
Digital strategy: More solutions from the cloud are targeted
An equally hot topic for TDM users was the cloud capability of the software. Users and prospective customers heard important details about the new TDM Cloud Essentials cloud solution from Daniel Friedrich, Solution Owner TDM Cloud. The entry model for basic tool management is offered as a subscription model in the cloud. Together with the TDM WebCatalog – the tool catalog from the cloud with more than 260,000 data records – tool data is created quickly and easily. The functions of TDM Cloud Essentials are limited to whatever smaller companies absolutely need in terms of tool organization: An overview of available tools, simple assembly and therefore faster set-up.
Machine data: Planned and actual data – the connection between two worlds
"Machine actual data – That's the world of Comara," began Holger Langhans, CEO of Comara GmbH, in his presentation. This software company develops solutions for production assistance systems and the targeted recording and use of machine data for greater value creation and as a basis for decision-making in production. With the Comara Box, the TDM Systems partner company transmits the selected and compressed actual machine data to the TDM software. In the TDM Feeds & Speeds Manager, the actual data is compared against the planned NC data by machine and tool. The tools are grouped together according to level of deviation and can be analyzed in detail. Bernhard Grossmann, Pre-Sales Specialist at TDM Systems, is convinced: "With the Feeds & Speeds Manager, users can establish a transparent, sustainable improvement process, reduce processing times and save their machining expertise centrally."
Range calculation – Tool calculation for series producers
Range calculation is a new add-on module and shows how many workpieces can still be machined using the currently available tool stock. The module also calculates the number of tools that need to be reordered. A significant advantage: "This means only the number of tools that are actually required are ordered, and the order is placed as late as possible, which of course has a positive effect on the tool stock and the tool-related capital," explained Bernhard Grossmann. The integrated calculation logic takes into account new tools, tools that are reground and tools with indexable inserts as well as the replenishment time from the supplier. "Range calculation is ideal for series producers, as the tool variety is higher with frequently changing workpieces, and this allows them to optimize their calculation of consumption."
Data services – The finished database without personnel expenses
TDM Systems offers a variety of solutions for database population. But not every new user has the human resources required to digitalize tools and create them in the system, "ultimately data quality is crucial for the efficient use of TDM Software," said Daniel Mutter, Solution Owner Data Solutions, TDM Systems. TDM Systems offers the solution to this "bottleneck" with the new Data Services. "Our data specialists undertake data creation and digital tool assembly in a project. A current topic for more and more new customers, as, time and again, a lack of human resources is a stumbling block for data creation," explained Mutter. To ensure that users can perform data maintenance independently afterwards, TDM Systems offers comprehensive solutions as well as a training offering specifically for CAM data preparation.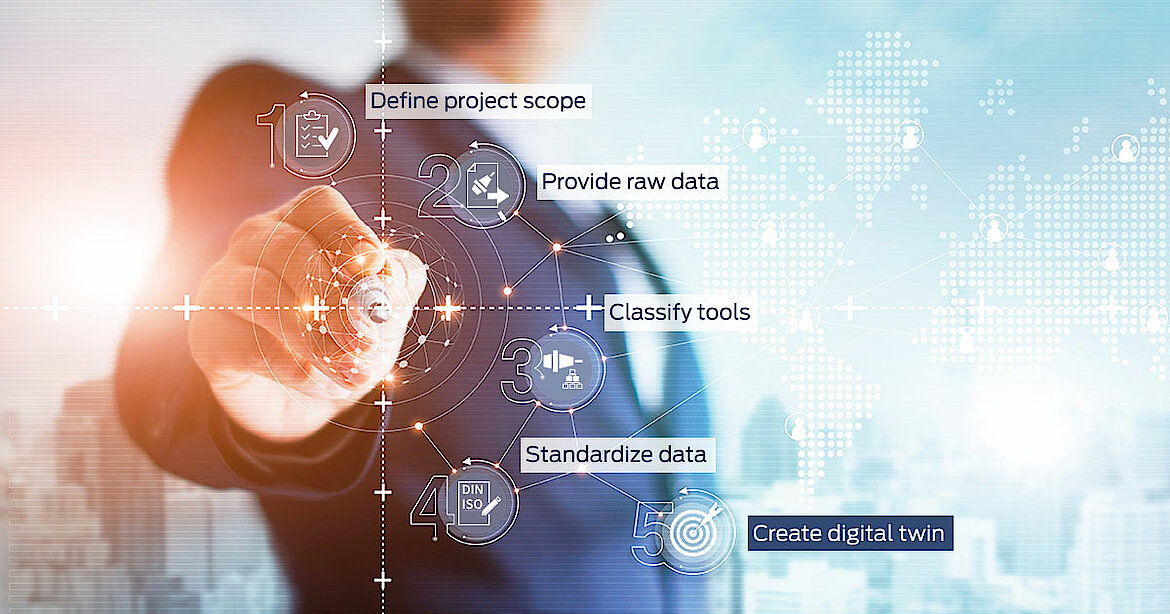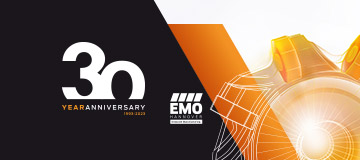 30 years of tool management: TDM Systems is celebrating its company anniversary and looking forward to the digital…
Find out more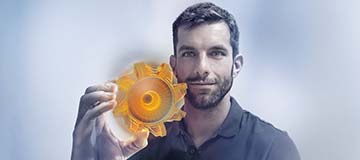 New key visual and key message: 100% Tool Management – a message that moves
Find out more