Digitalization of the tool inventory - what does that mean exactly?
Let's say that you have around 50 different tool suppliers and you are using about 10,000 different tools from those suppliers. With TDM you populate data for these 10,000 tools, maintain them, produce graphics files in 2D and 3D, digitally assemble items to form plausible assemblies and add feeds & speeds, etc. Even if you obtain tool graphics straight from the manufacturer or other sources, these are not always NC-ready and therefore can only be used in programming to a limited extent. It takes know how and time to create a database which can also be used for other systems.
What CAM systems really need
The planning and shopfloor systems which use tool data have different requirements. Depending on the system, the CAM and simulation systems have individual requirements when it comes to tool data and graphics. Many systems have their own tool classifications, native data formats and specific requirements for tool data with respect to details, representation and alignment, etc. NC planners must process and standardize the data and graphics in a time-consuming approach.
More than 70,000 tools available digitally
To ensure that these requirements are met with data from one database, in addition to developing tool management, TDM Systems has specialized in solutions for data population and maintenance. Software tools form a key part of this, such as the TDM Data and Graphic Generator and the TDM 3D Designer for defining and generating over 70,000 tools produced by leading tool manufacturers. These tools are available for the machining applications like turning, milling and drilling, as well as for HSS/solid carbide tools, end mills, step drills and grooving tools. The tools in the Data and Graphic Generator are designed to be parametrized and by making a simple modification, it is quick and easy to create other manufacturers' tool items or even semi-standard tools, for example. Moreover, the 3D models can be issued in various formats.
Tool catalog in the cloud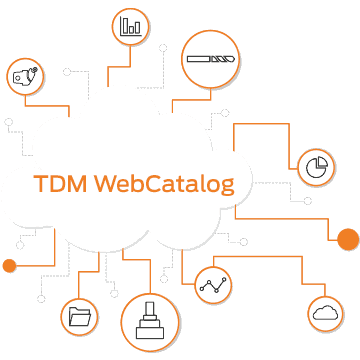 Recently, we have also been offering a new option for data download in the form of the TDM WebCatalog. Several manufacturers' tool catalogs are now available to download online from a single WebCatalog cloud application. The TDM WebCatalog contains up-to-date data of multiple tool manufacturers, is intuitively designed and enables users to quickly populate their tool databases.
Learn more about the TDM WebCatalog
Quick modification of graphics
TDM provides simple software solutions for processing 2D/3D tool graphics without a CAD system. The Editors for 2D graphics and 3D solids can also be used to quickly adjust graphics from various sources (e.g. tool manufacturers) to a consistent standard. The 3D tool assembly works almost automatically with TDM and TDM Global Line: After definition of the cutting part and the machine/adaptor type, TDM will suggest the correct items. Once these have been selected, the tool assembly is done automatically, which also includes a plausibility check. This is carried out in TDM Global Line with full 3D visuals.
Digital twins for CAM and simulation
While the tool data should be quickly and easily accessible in the planning systems, it goes without saying that this also applies to 3D tool graphics for visual planning. With integrations into over 30 CAM and simulation systems, TDM Systems can meet the requirements of almost every machining company. We have specifically developed the TDM 3D Solid Converter for adjusting 3D models. This tool checks 3D models according to the requirements of the CAM or simulation system. If these requirements are not met, there are simple modification options for adjusting the graphics. They are then converted into a standard format which can be used by a CAM or simulation system and can be used to maximum effect. Many of our customer use TDM data and graphics solutions to set up a digital tool database and digital tool twins, benefiting from highly informative simulation analyses of the machining process.
At a clear advantage with digital twins
The principle of digital twins is convincing in a number of ways: process reliability is increased many times over, machine collisions, scrap and long downtimes are avoided. Both the data in the systems and the tools in the machine are reliable. These advantages speak for themselves: