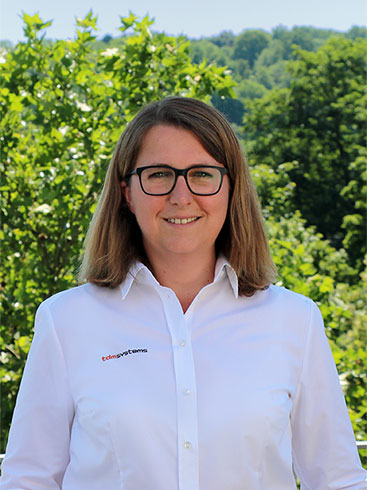 Ms. Lehmann, how did you come to TDM Systems?
I did my training here in 2006 after graduating high school. So, I suppose you could say I'm a "home grown" talent. After completing my training, I wanted to gain a higher education qualification and so I completed the one-year career-integrated dual study program at the vocational college, where I was awarded my technical diploma. TDM Systems made this possible by reducing my working hours – I was enormously grateful to them for being so flexible. From then on, I furthered my professional training with regular in-house courses, and even completed my trainer qualification at the Chamber of Industry and Commerce, as required by the Trainer Certification Regulation (AEVO). For four years or so, I then worked as team leader in the Internal Sales team and for two of those years, I was also responsible for the entire training program at TDM Systems.
Why did you decide to work for TDM Systems?
When I was applying for jobs, I had various options open to me. But the decision was made very easy in the end, because I felt comfortable with TDM Systems from the very beginning. I was simply won over by my prospective co-workers and the general atmosphere.
What are the typical tasks of the Head of Internal Sales & Order Processing at TDM Systems?
My tasks are hugely varied. The Internal Sales and Order Processing department takes care of the entire process – from the moment a customer shows interest through to the order placement and all the way to invoicing. This calls for a wide range of expertise; it's also important to be familiar with the background and the relationship of the individual steps. As head of department, I am of course also responsible for preparing sales figures and forecasts. We don't work according to a strict division of tasks; instead, we often work hand in hand with other departments on team projects. Besides managing the team, my top priority is teamwork and motivation. We can only do our jobs when we work together and it's only as a team that we are successful. I have tremendous faith in each and every one of my team and what they are capable of.
What do you particularly like about your work at TDM Systems?
(Laughs). I love how anything is possible. It makes my work so varied and exciting. I don't just sit in the office working through my tasks; instead I have lots of freedom to shape my work however I want to. TDM Systems gives you the opportunity to really push yourself and to seize new challenges within the company. I think this level of trust and support is fantastic and so is the strong sense of team spirit and solidarity among co-workers – it all goes hand in hand.
Aside from my new position, another aspect close to my heart is our project with the KBF Reutlingen, a foundation for disabled people. This project involves a student from the KBF coming to us for a six-week internship. In exchange, we send our apprentices to Reutlingen for a social internship. It's only thanks to the fantastic support of my co-workers that this project is able to continue.
Which characteristics should a person bring with them for this job?
For this job, you certainly need to be open-minded, flexible and able to think outside the box. A cool head is definitely important too; you need to exude a certain calmness, even in stressful situations. Of course, this field of work also requires you to have a head for numbers and it's really helpful if you can speak at least one other language, since we work internationally.
As the head of this TDM Systems department, what value do you place on training?
Training is and has always been fundamental to TDM Systems' HR policy. At TDM, we are developing a niche product that is brought to life by the expertise and ideas of our employees. The company's in-house training is undoubtedly one of the key ingredients in our recipe for success.
Other careers at TDM Systems